Klik Gambar
di bawah untuk memutar video.
Jika error
, coba pilih server video lainnya di atas.
Masih Error? Laporkan ke fanpage kami di sini:
fb.com/awsub
Nonton Detroit Metal City Sub Indo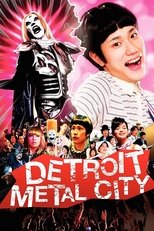 Soichi Negishi moved to Tokyo to chase his dream of becoming a musician playing stylish, Swedish-style pop. Instead, he finds himself leading the death metal band Detroit Metal City, or DMC...
Drama
Music
Nonton streaming Detroit Metal City sub indo, download anime Detroit Metal City subtitle bahasa indonesia.
Judul : Detroit Metal City
Judul Alternatif :
Rating : 6.8
Votes :
Status :
Total Episode :
Hari Tayang : Waktu Standar Jepang
Uploader : awsubs.id
copyright :
awsubs.id
2019 Email : admin@awsubs.id